I can't believe it has already been six months since Finn turned one year old. Where does the time go? A year of firsts, a year of milestones, a year of memories. One year loved for our little CEO, Finn. I almost can't believe we're already close to celebrating his second birthday – although seeing as I started planning his first party when little Finn was only four months old, it's definitely safe to say his birthday is something I always look forward to!
To help celebrate the launch of my 'One Year Loved' range, I'd love to take a moment to talk about the first birthday party that we threw for Finn. A lot of my inspiration came from Pinterest, which I'd spend scouring and pinning excitedly during night time feeds with Finn. Word of warning guys – there's so many amazing ideas for kids' parties on there, you might be inclined to spend your life savings. Check out some of our pins for kids parties here: Babies 2 Infinity Kids Parties Board.
I have definitely heard some people say it's a waste to go to such a big effort for an event our little ones potentially won't even remember, but this celebration was absolutely for us as well. A bit of a 'yay to us for surviving the first year'. While we adore every single second of parenthood, we're not going to pretend it's not hard. Like I said, there were a lot of firsts this year. That comes along with first teeth, first falls, first upset tummy, and first sickness. So to have Finn's friends and family around to say congratulations and look how beautiful he is, simply celebrating loving Finn with us was truly beautiful – and really worth the eight months of planning.
We decided on a Dr Seuss theme for the party and went maybe a little over the top with decorations. Even all of our food was in Dr Seuss theme while Finn, Mummy and Daddy all sported matching Dr Seuss jumpers. We even made up some rhymes in the Dr Seuss style! Our jumpers said "We kept him safe, we kept him fed, we did not drop him on his head" and "We made it through the year we did, and boy do we love our kid!" We think we'll be getting a laugh out of these ones for some time to come. Finn's jumper also had a cute little (extremely accurate) rhyme, reading: I survived my parents first year, although I suspect my Dad drank a lot of beer. We're really stoked with these designs, it actually pays to be in the business!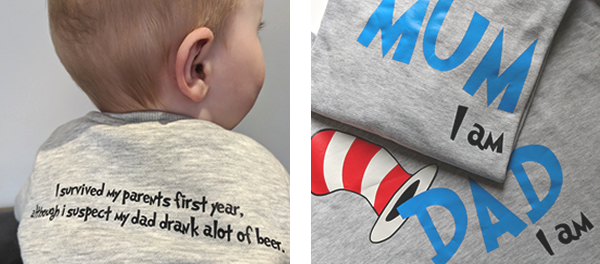 The weather took a little bit of a turn, but we had an indoor back up plan which worked perfectly and avoided any stress for the day. The early afternoon time slot also meant we didn't have to worry about making a proper meal and could stick to setting out some party food on the table (highly recommend). It was great to enjoy the party ourselves without worrying about the oven. We stuck to colourful and whacky looking food to adhere to the Dr Seuss theme and boy it looked AMAZING. Finn's wonderful Godmother made a mind blowing cake to theme, and although Finn didn't enjoy it much we couldn't get enough. A slanted cake in bold colours, completed with a light up '1' on the top, it was in true whacky Dr Seuss style.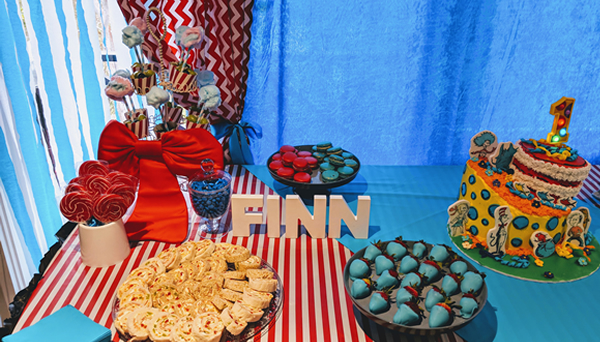 Overall, Finn had an amazing day opening new toys and playing (okay so he played with the wrapping paper, but still! He had fun!). We had an amazing day too, celebrating making it this far. Now we're so close to his second birthday, (we'll get the two years loved shirt, this time) and we get to do it all over again with all new wins and all new spectacular fails.
Can't wait.